Youth Ministry
At Faith Lutheran, we know that children are the future of the church! We proudly offer a number of youth group and Sunday school opportunities:
Children's Church
Our Children's church classes are designed to help even the youngest members of the church grow and live through Christ. Led by experienced Christian educators, each class reinforces the scriptures of the Bible through age-appropriate, Christ-centered lessons. Children's church occurs during our second service, allowing parents to focus on the Word while their little ones do the same in an age-appropriate setting. Children's church is typically offered on communion Sundays.
Children's Sermons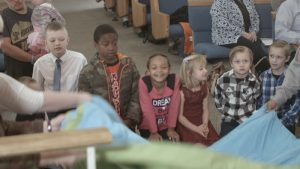 On non-communion Sundays, the church offers Children's sermons that tie into the sermon for the day. The stories are often silly, engaging, and age-appropriate to help little ones of all ages understand the message. Children's sermons are a great way for kids to feel that they are a part of the worship experience, and children love receiving the gifts that occasionally tie into the sermon.
F.L.Y. (Faith Lutheran Youth)
Students confirmation-age and older (13 – 19) will love being a part of this dynamic youth group! From teen hang-outs, to lock-ins, trips to theme parks, and more, there is always something fun to engage in. Christ-centered behavior is encouraged, and no topic is ever too serious or silly. The group is ever-changing, as are the lives of the students who participate. If you or someone you know could benefit from being a part of this service-oriented, fun, and zany youth group, we encourage you to contact the church for more details! 
Vacation Bible School
Is your child looking for something to do during summer vacation? Look no further! Vacation Bible School is a fun-filled week of Christ-centered teaching, projects, activities, and games that is sure to inspire kids of all ages. Dinner is provided, and adults are encouraged to attend classes as well! To learn more about volunteer opportunities, or if you have questions about VBS, then please give us a call at 760-244-5943 or use our contact form to reach out to us online!
Music Ministry and Skits
There are various opportunities for youth to engage in the worship experience through music and skits. During second service, the praise band director will often call little ones to come up to the front to help play age-appropriate instruments for the final song of the service. There are also various singing, instrumental, and acting opportunities for the youth throughout the year. If your little one has a special talent, then please let the church know!